« I wanted what we all want: everything. We want a mate who feels like family and a lover who is exotic, surprising. We want to be youthful adventurers and middle-aged mothers. We want intimacy and autonomy, safety and stimulation, reassurance and novelty, coziness and thrills. But we can't have it all. »
Ariel Levy picks you up and hurls you through the story of how she lived believing that conventional rules no longer applied – that marriage doesn't have to mean monogamy, that aging doesn't have to mean infertility, that she could be 'the kind of woman who is free to do whatever she chooses'. But all of her assumptions about what she can control are undone after a string of overwhelming losses.
« I thought I had harnessed the power of my own strength and greed and love in a life that could contain it. But it has exploded. »
Levy's own story of resilience becomes an unforgettable portrait of the shifting forces in our culture, of what has changed – and what never can.
Ariel Levy is way too cool.
She made me think of this friend, sort of crazy (not in a clinical sense, crazy in a good way! most of times at least), that is also a little « too much ». The kind that dies her hair pink a Tuesday on the spur of the moment because she cried in front of the perfection of a sunset and she realized that « Pink is a psychedelic color, I swear hun, you were not there you can't get it! » (The girl is 30. Everything is fiiiine. Thanks to her, I'm the one that seems to be « all together » for once. So refreshing.) My friend also speaks with a flow so high that it defies imagination. She's always way way too happy about the little things of life. I love people like that, for whom everything is so intense, people that don't follow the rules and that, contrary to most people (contrary to me), allow themselves to say fuck to conventions.
.« Daring to think that the rules do not apply is the mark of a visionary. It's also a symptom of narcissism. »
Still, it's nice to read the story of an imperfect person that is trying (shouldn't we all?) to be honest with herself. She's really self-conscious about who she is and what she wants and she manages to get it. Fake it until you make it. This might be another definition of bravery, I guess. It's allowing oneself to be happy even though we don't think we deserve it because, let's face it, we haven't always been « perfect ».
« I didn't want her girlfriend to suffer. But I didn't feel particularly guilty, either. They seemed so far from love, I even thought (stupidly) that the girlfriend might be happy to have Lucy taken off her hand. They had become strangers. Maybe they always had been. And we were magic. »
For instance when she cheats on her girlfriend and she justifies it with this nebulous theory that love dedicated to only ONE person is not contradictory to sleeping from time to time with random people, if there is attraction etc… Well, well, well. Let's test this theory. I'm not sure my boyfriend would be that tolerant! But, to be perfectly honest, I kind of agree with Ariel about this « cheating issue ». This is quite ridiculous and childish when you think about it. Mariage is a social construction that hasn't been existing for so long regarding the story of mankind. And being physically attracted to sb else doesn't take anything from your loved one. Of course, the advantage to submit to social pressure/the norm is to be « part of the group » (i feel like I'm talking about animals… weird). ANYWAY. You sort of have to get married, have children, a long-term contract (I wish!) to check the boxes of a « successful life » (says who?) but… Is that really what we want? Is that really what we should do?
« One day you are very young and the suddenly you are thirty-five and it is Time. You have to reproduce, or else. »
The mere thought of having to stay stuck with the same person till the end of my life is terribly scary… It's like, voluntarily, getting on a highway to hell, direction death, without any fun on the way. But since divorce is an option, and so a real possibility, all is not necessarily lost dixit Ariel.
*
I also really liked all the moments where she talks about her job as a journalist, as a writer, about the fact that she needs to tell stories and live things twice (live them and then write them). I think she tried (unconsciously maybe) to turn her life into something « novel material » so she could write about it. Isn't it what we all secretly want? To have a crazy destiny? Because we always believe that we are invulnerable (obviously since we are the main character of our story) but we get back from it. No, no. We are the main character of absolutely nothing at all. Nada. Niet. Rien du tout. First disillusionment of life when you realize that, actually, you don't control anything and in face of hard ordeals, you're not this hero you thought you would be. You're just that pathetic little thing, crying over your terrible fate. The thing is, I guess, at least to try to become the best version of yourself. Fake it until you make it. Always and forever. And maybe someday, it will become true…
I could talk about this book forever. I'll have my pink-haired friend read it, maybe she'll get inspired and dye them green who knows!
Plus, Ariel liked my tweet. Ariel. I know, right ??? Like we're already on first-name basis, like we're kind of best friends now. God, I'm so delusional. Anyway, if you want to have a long talk with a friend just dive in, dive in this book, take a breath and enjoy the journey because man, it's worth it ! AND READ IT IN ENGLISH PLEASE (way better this way, french fellows <3).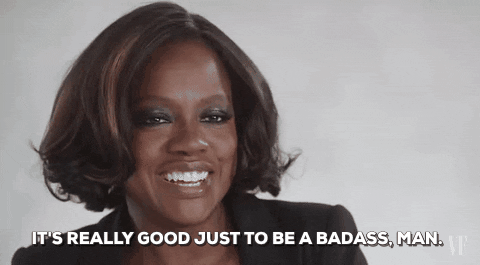 Nota Bene : I read it on my first day to work, heading to a job I'm passionate about and this book really comforted me that life is too short for compromise. Life is made to be lived 100%. Don't waste your time with things you « kind of » like. Dream and live Big. Dare to be « too much ». And READ THIS BOOK!
My grade :
---
Editeur : RANDOM HOUSE
Date parution : 03/17
ISBN : 9780812996937
Nb de pages : 224 pages